Wedding Car Hire for your Special Day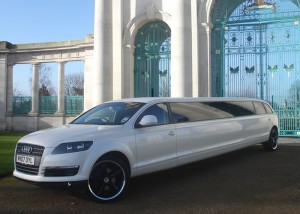 Arrive in style on the Most Special Day Of Your Life!
Our services include affordable Limousine and Car Hire for Weddings. We pride ourselves on our reputation as a specialist in Wedding Car Hire Leeds.
We have Probably the finest collection of wedding cars available anywhere with in the country. Providing a professional Wedding Car Service in th UK.
Our Limousine Hire service can provide the first class travel experience to take you to your destination in the ultimate luxury and style. Our highly qualified chauffeurs will treat you like royalty.
We can decorate your cars with flowers. banners, ribbons, door bows and balloons on special request, in a choice of colours. We will attend to all your needs, leaving you relaxed and calm for your celebrations.
Large Fleet of Luxury Wedding Cars to Hire
Our fleet includes a beautiful modern White Stretched Limousines with an extra wide bridal door.
We will attend to all your need, leaving you relaxed and calm for your celebrations. Take a photograph, play your favourite music and let the evening begin!!
Arrive in a Luxurious Vintage Car with your own personal chauffeur, our professional & courteous limo chauffeurs will accommodate whatever your heart desires on your wedding day!
We can also provide transportation to hotels or airports before or after the wedding.
Be driven to the ceremony in the luxury of a classic Baby Bentley Chrysler or BMW x5. We also offer not just Wedding Car Hire but other tailored services for Brides and Bridegrooms on their special day also.
Asian Wedding Car Hire in the uk
We provide Wedding cars for all wedding types, whether it is an Asian Wedding in a hall or a wedding at the church, we have the wedding cars to meet your needs.
With years of experience in Asian Weddings our drivers come prepared with the knowledge of dealing with all cultures, wedding needs and requirements, our drivers are aware of the Asian culture and Asian traditions.
We have many years of experience in providing wedding cars for newly weds, plus we have now taken delivery of a Rolls Royce Phantom. Our Rolls Royce Phantom is available in white, silver or black.
All our wedding cars come with complimentary ribbons and bows and if you Hire a Chauffeur Driven Rolls Royce or Bentley Car, the bride and groom will receive complimentary drinks.
All our limos come with Air Conditioning, Luxurious Leather Interior, 360º Prvacy Glass, Fitted Seat Belts, Sat Nav and as expected a Polite, Professional Chaffeur. Customer safety and satisfaction is our priority
If you need to book Wedding Car Hire, please click here for a Free No-Obligation Quote,
or to discuss your particular requirements, please call our friendly and professional team on 0800 0029 657.
If you Book Your Wedding Care Hire Date Today – Your booking will be confirmed back to you within 24 hours.