Limo Hire Oldham & Saddleworth
If you are thinking of getting out on the town in Oldham or a celebrating something special over the coming months, why not think about a limo hire to get your party or event off with a bang. Many people in and around Oldham are under the misconception that hiring a limo in the Oldham area is an expensive thing to do. Well we just want to let you know that actually it can be cheaper than hiring a minibus on a return basis. For example if you hire a taxi from Saddleworth into Oldham town centre and book a return ticket for 12 to 14 people it can be very costly. With Acestar Limousine Hire we are proud to be able to offer you a quote for your journey requirements and we can make sure that we have the best limo hire Oldham has to offer.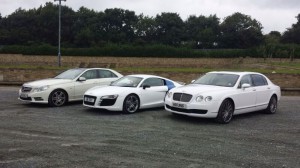 Enjoy The  Finest Limo Hire Oldham Has
Simply put our limos are the best in the Oldham area, we have a fleet of brilliant limos available for hire all with amazing onboard facilities such as a bar, top sound system and lighting to make your event go off with a bang. Those of you that know our limo hire service will know that our local knowledge of the Oldham area is first rate and our chauffeurs are courteous, well trained and polite at all times. If you want a quality limo hire in Oldham, why not check out the Audi Q7, BMW X5 or why not turn heads with the Porsche Limo. No matter which limo you choose, you will have a great time and it will be a great addition to your event.
The best limo hire rates Oldham gives you.
While a limousine offers a touch of class and elegance to all users, it doesn't have to be expensive to hire a limousine.
Ace Star Limousine Hire offers a wide range of packages and vehicles, so if you are looking for the best value for money cheap limo hire Oldham, get in touch.
The firm is happy to offer a free quote with no obligation so if you are looking for peace of mind when it comes to booking a limo; this is easily the most reliable limo hire in Leeds.
One of the reasons this option is described as being one of the best car in Leeds options is down to the range of vehicles available in the fleet.
Be unique and hire the X5, Ace Star limousine hire are the proud owners of the UK's ONLY 2 BMW X5 Limousines.
Arrive in style aboard the the Audi Q7 limo, the A7 is one of the best looking limousines in the world and is becoming more and more popular.
The Rolls Royce Phantom is the car for the special occasion, book this car and you will be treated to an unforgetable experience.
The H2 HUMMER limo is one of the most sought after limos on the road. The H2 Hummer is ready to be booked for all occasions
The Rolls Royce Phantom is the car for the special occasion, book this car and you will be treated to an unforgetable experience.
The Chrysler limo also known as the Baby Bentley has become one of the most elegant limos available in the UK.
Oldham Centre
Glodwick
Coppice
Derker
Royton
Chadderton
Middleton
Failsworth
Saddleworth
Greenfield
Lees
Springhead
Limo Hire Oldham Locations
The diversity of cars available in the Ace Star Limousine Hire fleet will ensure that everyone is able to travel in the car of their dreams.
As well as maintaining an excellent fleet of vehicles, the firm aims to ensure that all of their vehicles are kept in excellent condition.
This means that the car will look great, you can travel in comfort and you can rest assured that the vehicle is maintained in excellent condition.
With the option to carry up to 18 passengers in some of the larger vehicles, you will find that this is the limo hire Leeds relies on.
Wedding Car Hire adds a Touch of Class to your Special Wedding Day
You will find the most effective and stylish wedding car hire Oldham has to offer, including the stunning white Rolls Royce Phantom.
Of course, when many people think of hiring a limo, they will be doing so for a wedding day.
For many people, this is the archetypal wedding car, and if you want to make sure that the happiest day of your life is also the most stylish day of your life, this is the car you should hire to ensure you arrive in comfort and style.
Of course, sometimes hiring a limo isn't about style or elegance, it is about grabbing attention and making a grand entrance.
If you want to stand out from the crowd, why don't you arrive at your event in a Hummer? For the best quality hummer limo hire Oldham has to offer, make sure you contact Ace Star Limousine Hire.
No matter what sort of limo you are looking to hire, they will ensure you get the best possible service at all times.
Of all the limo companies Oldham has to offer, you want to choose a company with considerable experience; a great fleet of vehicles, experienced drivers and a dedication to ensuring you have an excellent time.
All of these benefits, and plenty more, are provided by Ace Star Limousine Hire so if you are looking to enjoy yourself, make sure you arrive and exit in the best possible manner.
If you need to book with our Limo Hire Oldham, please click here for a Free No-Obligation Quote, or to discuss your particular requirements, please call our friendly and professional team on 0800 0029 657
We cover the following areas with wedding car hire and limos, Preston, Liverpool, Blackburn, Huddersfield, Oldham, Sheffield, Leeds, Bradford, Wakefield, Manchester and throughout Yorkshire and Lancashire.