Birthday Limo Hire for that Special Occasion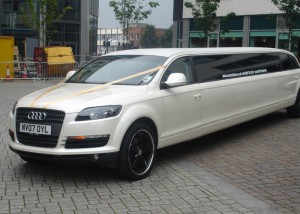 Birthday Limo Hire and Car Hire for Birthdays… treat yourself or your birthday person to a special surprise for the day and let provide the breathtaking transportation that you will never forget.
A Private Birthday Party Limousine Hire is the perfect present for your dear & near ones on their birthday.
We can even decorate our limo with flowers. banners and balloons on special request, in choice of colours.
We will attend to all your needs, leaving you relaxed and calm for your celebrations. Take a photograph, play your favourite music and let the evening begin!!
Call today to reserve a limo for your Birthday.
Birthday Limo Hire and Car Hire for Birthday Parties
Here at Ace Star we offer Birthday Limo Hire and Car Hire for Birthday Parties and our promise to you is to offer the finest & latest Limousines available in the UK.
Our Limousines are cleaned & regularly maintained. Our courteous drivers are highly trained professionals with years of limousine driving experience
All our limos come with Air Conditioning, Luxurious Leather Interior, 360º Prvacy Glass, Fitted Seat Belts, Sat Nav and as expected a Polite, Professional Chaffeur. Customer safety and satisfaction is our priority
If you need to book our Birthday Limo Hire services then please click here for a Free No-Obligation Quote,
or to discuss your particular requirements, please call our friendly and professional team on 0800 0029 657.
We look forward to hearing from you soon.